HR Program Coordinator
This job is no longer accepting applications.
The HR Coordinator, Talent Programs supports the talent organization within HR and ensures the execution of the department's overall talent strategies in order to attract, develop, and retain a highly effective workforce, while working in partnership with other members within the HR Talent Organization as needed.
MINIMUM QUALIFICATIONS:
Education/Specialized Training/Licensure: High School Diploma/GED; Bachelor's degree in Human
Resources, Business Administration, or related field preferred.
Work Experience: Five (5) years experience in HR talent, including recruitment, onboarding, & retention.
Equipment Operated: Must have a thorough understanding of information systems and data bases, specifically PeopleSoft.
SPECIAL REQUIREMENTS:
Communication Skills:
Above Average Verbal (Heavy Public Contact)
Writing/Composing (Reports)
Other Skills:
Analytical; Research; Statistical; Typing
Work Schedule:
Flexible, Eligible for Telecommute
Typical Duties That May Be Performed
1. Partner with HR COE leaders to assist in the delivery of strategic people programs for both internal HR staff and external system-wide program affiliates.
2. Assist in developing timeline and sequencing for all relevant program related activities throughout the year, e.g., RN Internship Program, Employee Engagement surveying, learning/development programs, external job fair facilitation, internal town hall participation, etc.
3. Administer necessary program assignments on an ongoing basis, while maintaining regular reporting and metrics for established program success measures.
4. Assists in the creation and/or development of internal forms, templates, and communication materials used to advance the overall message of relevant programs and projects.
5. Assists in completion of special projects and actions in support of overall HR program execution, including attendance at career fairs, assisting with event registrations, facilitating slide deck presentations, etc.
6. Coordinate overall administration of key program and project timelines critical to overall COE program success. Will also be responsible for working with program and project management team to ensure communication of key timelines is set up through the appropriate calendars and online tools.
7. Assists in general administrative support to HR programs as needed.
Benefits and EEOC
Harris Health System's benefits program is designed to provide you with more flexibility and choices in meeting your specific needs. Harris Health System's benefits program allows you to protect your income in case of illness, death and disability, and to help you save for retirement.
It is the policy of Harris Health System to provide equal opportunity for all applicants for employment regardless of political affiliation, race, color, national origin, age, sex, religious creed or disability. Applicants may request any reasonable accommodation(s) to participate in the application process.
Job Category
Professional
Job Description
Job ID
154838
Location
Administration Fournace Place
Hiring Range:
Hourly Minimum to Midpoint:
24.64
-
31.41
Full/Part Time
Full-Time
Regular/Temporary
Regular
About Us
At Harris Health System, we champion better health for our patients, their families and our community, by connecting them to an integrated healthcare system that provides high-quality healthcare. Harris Health focuses on the delivery of primary care, wellness and prevention services to the residents of Harris County, Texas, through its extensive network of inpatient and outpatient facilities. Harris Health is a proud recipient of the prestigious National Committee for Quality Assurance designation for its patient-centered medical homes. Harris Health's medical faculty and residents are provided by its nationally recognized medical school partners: Baylor College of Medicine; McGovern Medical School at The University of Texas Health Science Center at Houston (UTHealth); and The University of Texas MD Anderson Cancer Center.
Apply
Your application has been successfully submitted.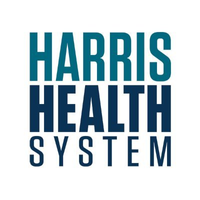 We deliver high-quality healthcare, create a healthier community & strive to be one of the best healthcare systems in the U.S.